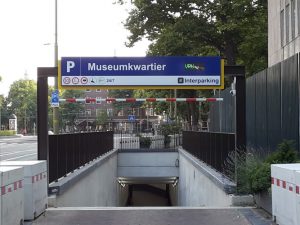 A well-known Dutch comedian once said: 'The Dutch have only two problems: how to lose weight and where to park the car'. Perhaps it's no surprise that these problems still bother many an inhabitant of The Hague.
After the completion of the Museumkwartier Parking Garage at Tournooiveld, there are 320 new parking spaces in the city centre. Now is a good time to look back at earlier plans to build a parking garage in the Hofvijver area. Or to be more specific: a parking garage beneath the Hofvijver!
1963 Parking garage Moorhen
According to a 1963 feasibility study, it would have been possible to build a car park for 1150 vehicles underneath the Hofvijver for the sum of 50 million guilders. This estimate assumed that the government would provide the land for free. The writers of the report stated: 'the Hofvijver has no other commercial use, so there are no possibilities to sell this piece of land'.
There were two alternatives for the entrance and exit: Tournooiveld or Hofweg/Lange Vijverberg. Note that both alternatives provided direct pedestrian access to the Binnenhof!
To support the need for this underground car park, statistics were provided. In October 1963 all parked cars in the Hofvijver area were counted.
It's hard to imagine today, but on average 298 cars were parked on Binnenhof, 84 on Plaats and over 500 on Lange Voorhout.
In 1973, local newspapers mentioned a similar plan commissioned by the Foundation Shopping Promenade The Hague. This organisation was also behind the construction of the present-day car park beneath Plein.
Eighties and nineties
In 1983 a small majority of the town council of The Hague voted in favour of a 600 car parking garage underneath the Hofvijver. But resistance from Hagenaars was fierce. So the would-be builder put the plans in a drawer. In 1998 the plans came out of the drawer again. By then the costs to build the underground car park had risen to 50 million guilders. But this money wasn't spent, and the plans went back in the drawer a second time.
Parking Garage Museumkwartier
But now we do have Parking Garage Museumkwartier, underneath Tournooiveld, next to the Hofvijver. It has facilities that could not have been imagined in the plans from the 1960s: charging stations for electric cars, automatic number plate recognition and online reservation. During construction it looked like there was a second Hofvijver.
And twice King Willem-Alexander had to make a detour through Lange Houtstraat to reach the Binnenhof on Prinsjesdag.
The new garage gives Hagenaars 320 more places to park cars. All well and good, but – even better- if you go to the city centre by bicycle instead of by car, you demonstrate one solution to that other problem of 'how do I lose weight'.
Do you want to know more about how The Hague has developed over time? Treat yourself and/or family, friends or colleagues on a guided tour through The Hague. More info