We think of swans as graceful birds, floating ornaments on many ponds in our parks. And for many years, the swan was the symbol of the Royal Dutch Airlines. Peacocks are more colourful, particularly when displaying their beautiful, lavish tail feathers.   During the Middle Ages, however, both swans and peacocks were put on the table as  festive dishes.
Festive meals
Swans and  peacocks were not every day fare, even in wealthy households.  Rather, we find them in descriptions of society occasions. I take you back to the year 1369, when the Hague saw the marriage of the daughter of the Count of Holland to the son of the Duke of Guelders.
The festivities at the Binnenhof  lasted three days and 200 guests were entertained. Accounts of the events included a long list of banquet ingredients, among them no fewer than 70 swans!
'Show off dish'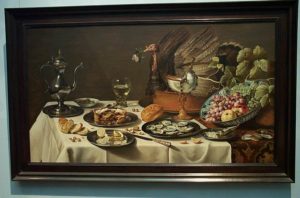 Large birds like peacocks and swans were considered "show" dishes — highlights of a grand meal.  A bird would be carefully stripped of its skin and feathers. The meat was prepared and then put back into the feathered skin in order to display the bird in all its splendour. Since the meat of such birds is very dry and tough, we can assume that mostly the meat of young animals was used.
Another means of preparation was a pie with a prepared bird on top, as can be seen in 17th century paintings.
The present day
What does one eat at royal occasions nowadays? The menu of the marriage dinner of Kate and William reveals a more sober approach.
I will tell you more about the fascinating history of our food and drink during my walk: